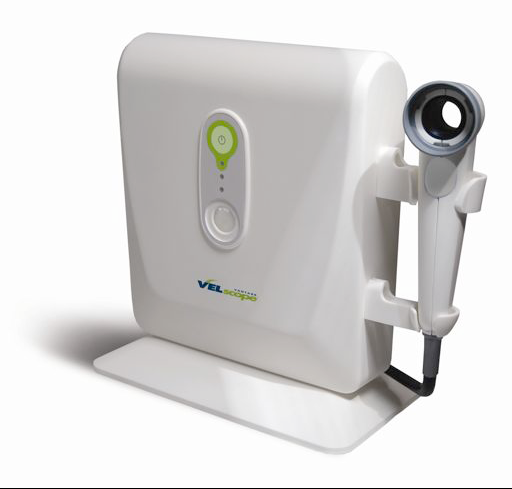 According to The Oral Cancer Foundation, 450,000 cases of oral cancer are discovered worldwide each year. The death rate for this cancer is high because it is difficult to discover and typically is not found until it is in a late-stage and harder to cure. Early detection can improve the chances of survival. It is a myth that if you don't use tobacco or drink alcohol that you won't develop oral cancer. In fact, about 25 percent of those diagnosed with oral cancer do not drink or smoke. Fortunately, there is a way to detect oral cancer earlier and thus improve the odds of survival and that is with VELscope cancer screenings.
What is VELscope Cancer Screening?
VELscope is a pain-free FDA-approved device that uses Fluorescence Visualization (FV) to help dentists screen for the earliest phases of cancer in the mouth. The device is used with a pre-rinse that the patient swishes around her mouth for a minute or so before the device is used. VELscope shines a blue light into the oral cavity and highlights any lesions or unusual changes that wouldn't normally be visible.
Healthy tissue appears normal, but unhealthy areas become dark green and are readily visible to a trained dental professional. In addition, the VELscope can be used to ensure that any soft tissue that appears diseased is collected and properly sent out for further testing.
What to Expect
During one of your regular dental treatments, your dentist will perform a traditional oral exam. You will then be given a pre-rinse, offered protective eyewear and the lights will be dimmed.
The VELscope is a hand-held, wireless device. You will not feel any pain or burning sensations from the device. It is completely non-invasive.
The VELscope can help diagnose:
·       Bacterial, viral and fungal infections
·       Inflammation from a variety of causes, which can then be examined farther
·       Squamous papillomas
·       Tumors of the salivary gland
·       Cancer and pre-cancer
Dentistry on 7 incorporates this technology during all new and returning patient oral exams. Early detection of oral cancer is the key to surviving this deadly disease and using tools like the VELscope helps aid in detection.